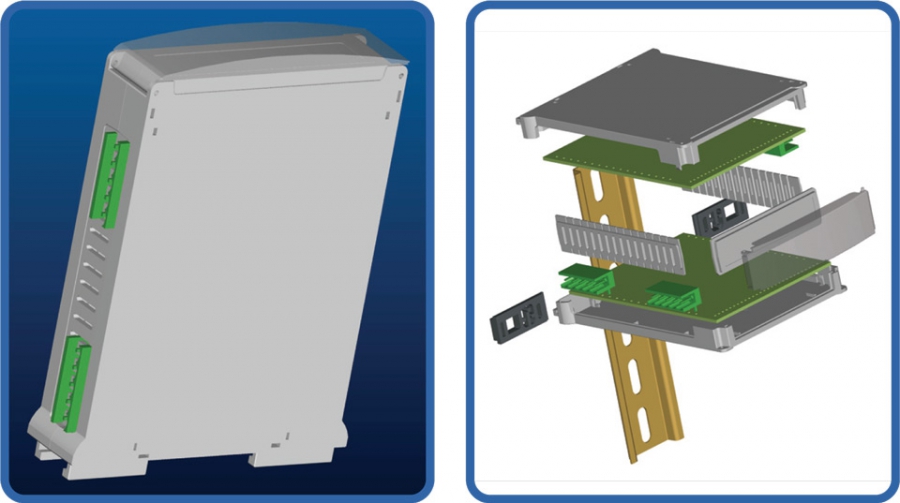 Reduced cost of assembly.
To bring their customers value in form of lower cost of assembly Bernic has introduced a new DIN-Rail enclosure for process control and factory automation.
Bernic has announced an new series snap together vertical enclosures for M36 DIN-rail in 22.5mm and 45mm modules width. These new enclosure series are designed for applications as for instance process control, relays for measurement, and factory automation. The snap together design permits easy assembling and soldering of the complete PCB (with terminals and components). Simply snap in the PCB and snap together the two side's parts.
The M22/M45 offer easy cable termination via commercially available screw terminals or connectors, due to separate breakable side parts for easy customization and connector configuration. The front panel is also separate for easy milling.
The models have room for two vertical PCB. The enclosures can be equipped with or without terminals and connectors as required – i.e. fixed or plugged terminals or D-sub connectors. The top is flexibly designed for connectors, switches and LEDs and can be supplied with holes according to customer requirements. The new enclosures can withstand a maximum load of up to 36A.
The enclosure parts are as standard supplied in grey Lexan (RAL 7035) and it is selfextinguishing according to UL94-V0.
Furthermore, the selection of colours has been extended to meet the specifications from a growing number of customers. Now Bernic ApS can comply with almost all requests regarding colour and cut-outs in the front.