Reduced cost of assembly.
To bring our customers value in the form of lower assembly cost, Bernic has introduced a new low profile DIN-Rail enclosure.
As some applications do not need the extra room above the PCB, you can actually save money by reducing most of this space and eliminating the need for long spindles for switches, trimmers and light guides for LED.
The possibility of mixing different openings for connectors, with or without ventilation, gives not only a very wide range of options for connections, but also offers highly customizable enclosure designs. Due to designed covers it is possible to add individual features to the design.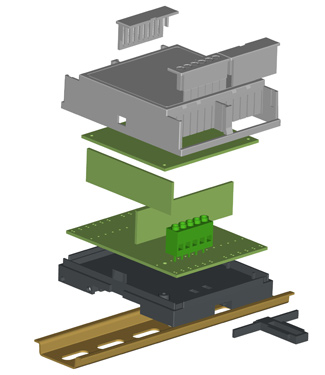 Bernic has launched a new series of low profile enclosures for M36 DIN-rail in 2 and 4 modules width. These new enclosure series are designed for applications like housing management equipment, relays for measurement, modular time switches, light switching units and modules for decentralized automation. This new line of enclosures permits easy Snap-On assembly onto DIN-rails with an installation width of 35 mm, 70 mm. The snap together design permits easy assembling and soldering of the complete PCB (with terminals and components). Simply place the PCB and snap together base and top parts. Easy cable termination via commercially available screw terminals or connectors.
The models have room for one PCB horizontally on the base of the enclosure. Vertical to this PCB it is possible to have more PCBs allowing for the use of components requiring additional height (like transformers, relays, etc.). The enclosures can be equipped with or without terminals and connectors as required – i.e. fixed or plugged terminals or D-sub connectors. The top is flexibly designed for connectors, switches and LEDs and can be supplied with holes according to customer requirements. The new enclosures can withstand a maximum load of up to 36A.
The enclosure top parts are as standard supplied in grey Lexan (RAL 7035) and the base parts in black Noryl (RAL 9005).  The material is self- extinguishing according to UL94-V0.
Furthermore, the selection of colours has been extended to meet the specifications from a growing number of customers. Now Bernic ApS can comply with almost all requests regarding colour and cut-outs in the front.
For more information please contact:
Lars Friderichsen
Bernic