Bernic has introduced new sizes of Potting boxes intended for sealing and protecting electronic assemblies. They are made of polycarbonate materials that are resistant to shocks and vibrations.
The Potting boxes series 7000 is used for safely enclosing electronic assemblies like transformers and chokes. Potting can be done with the help of any solid or gelatinous shock resistant material. They provide complete protection against moisture and corrosive agents.
Potting boxes are mainly used to protect electronic assemblies which is very useful in the development of electronic projects and applications. They are easy tools that engineers can use to safeguard their electronic circuits.
They provide electrical insulation and security to the person handling the electronic assemblies. It gives the electronic assemblies a thicker and more robust layer of protection against harsh environments.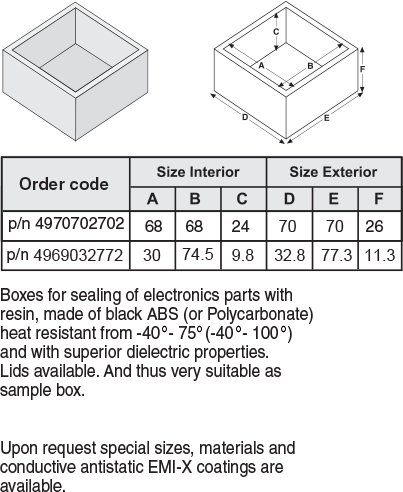 They also prevent short circuit problems and voltage leakages and improve the performance and reliability of the circuit.
Potting encloses the whole electronic assembly which can be very helpful when making the product FIPS compliant and prevents unauthorized manipulation of the circuit
Potting can be done using various types of materials. Bernic has chosen the superior Material polycarbonate, as it is heat resistant and have insulating properties
Bernic has 3 unique series of potting boxes for your potting needs. Our potting enclosures are molded from black flame-retardant polycarbonate plastic with a flame rating of UL94V-0. Optional glue-on covers are available as an accessory.
Comprehensive range of open top potting boxes providing maximum protection against shock, chemicals, moisture and temperature. 
Encapsulate and protect electronic components

Highly resistant to most chemicals

High rigidity and impact strength 

Compliant with water absorption specifications to DIN53495

Tough plastic enclosures for encapsulating electronic components and assemblies
Many sites recommend using silicone or epoxy to protect from impact and loose wires.  Araldite (a brand name) potting compound has been suggested for certain automotive applications
In the potting process, an electronic assembly is placed inside a mold which is then filled with an insulating liquid compound that hardens, permanently protecting the assembly. The mold is part of the finished article and can provide shielding or heat dissipating functions in addition to acting as a mold. A cast assembly uses a removable mold.
As an alternative, many circuit board assembly houses coat assemblies with a layer of transparent conformal coating rather than potting. Conformal coating gives most of the benefits of potting, and is lighter and easier to inspect, test, and repair.
When potting a circuit board that uses surface-mount technology, low glass transition temperature (Tg) potting compounds such as polyurethane or silicone are used, because high Tg potting compounds may break solder bonds as they harden and shrink at low temperatures. 
Contact us and let us help you find your perfect DIN-rail enclosure solution
Bernic A/S
Humlebaekvej 45 – 3480 Fredensborg
Denmark
Email: sales@bernic.dk
Fax: +45 7027 0144
www.bernic.dk